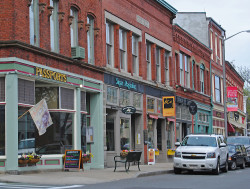 Gloucester (/ˈɡlɒstər/) is a city on Cape Ann in Essex County, Massachusetts, 36 miles from downtown Boston. It is part of Massachusetts' North Shore. The population was 28,789 at the 2010 U.S. Census. An important center of the fishing industry and a popular summer destination, Gloucester consists of an urban core on the north side of the harbor and the outlying neighborhoods of Annisquam, Bay View, Lanesville, Folly Cove, Magnolia, Riverdale, East Gloucester and West Gloucester.
The boundaries of Gloucester originally included the town of Rockport, in an area dubbed "Sandy Bay." That village separated formally on February 27, 1840. In 1873, Gloucester was reincorporated as a city.
Gloucester was founded at Cape Ann by an expedition called the "Dorchester Company" of men from Dorchester (in the county of Dorset, England) chartered by James I in 1623. This date allows Gloucester to boast the first settlement in what would become the Massachusetts Bay Colony, as this town's first settlement predates both Salem, Massachusetts in 1626, and Boston in 1630. This first company of pioneers made landing at Half Moon Beach, and settled nearby, setting up fishing stages in a field in what is now Stage Fort Park. This settlement's existence is proclaimed today by a memorial tablet, affixed to a 50′ boulder in that park.
---
Location and Neighborhoods:
Gloucester is located at 42°37′26″N 70°40′32″W
Gloucester has many distinct neighborhoods including: Harbortown, Annisquam, Bay View, Lanesville, Folly Cove, Magnolia, Riverdale, East Gloucester, Rocky Neck Eastern Point, and West Gloucester.
---
Government:
Strong-Mayor-Council system
Current Mayor: Sefatia Romeo Theken
---
Major industries:
Fishing and Ocean-centric Economy
Tourism
Arts & Culture
Technology
---
Demographics:
Population: 29,393 (2013)
Unemployment rate: 7.7% (Feb 2015)
Area: 41.5 mi² (107.5 km²)
Median income for a household in the city was $58,568, and the median income for a family was $80,970 (2007 estimate).
The per capita income for the city was $25,595.
About 7.1% of families are below the poverty line below State and National averages.
---
Mass Transit:
Two MBTA commuter railway stations connecting to Boston, metropolitan communities and East Coast cities.
Regional Bus Line: Cape Ann Transit Authority (CATA) supporting Gloucester and the Cape Ann region.
Airports:
International Airports: Boston Logan (34 miles); Pease International (57 miles)
Regional Airports: Beverly Municipal Airport (17 miles), Hansom Air Terminal (40 miles)
---
Highway Access:
Desirable location inside Route 128. Easy highway access via multiple on-ramps to Route 128 which begins in Gloucester and becomes Route 128/I95.
---
Public Schools:
Gloucester Public Schools District is comprised of the following schools:
Gloucester High School (9–12)
O'Maley Innovation Middle School (6–8)
East Gloucester Elementary School (K–5)
Plum Cove Elementary School (K–5)
Beeman Elementary School (K–5)
Veteran's Memorial School (K–5)
West Parish Elementary School (K–5)
Gloucester Preschool
---
Beaches, Parks and Conservation Areas:
Public Beaches: Good Harbor, Wingaersheek, Cressey's, Plum Cove, Pavilion, Niles, Half Moon.
Parks: Stage Fort Park, Ben Smith Playground, Gordon Thomas Park, Solomon Jacobs Park Magnolia Woods Recreation Center, Ravenswood Park, St. Peter's Square, Mount Ann Park
Seaside Promenades: Stacy Boulevard, Atlantic Road (Backshore).
Conservation Areas: Dogtown Commons, Seine Field, Marble Road Conservation Area, Eastern Point Wildlife Sanctuary, Goose Cover Reservation, Carter Reservation.
---
Colleges and Universities:
Endicott College and University of Massachusetts (UMASS) have locations in the city; Salem State University and Gordon College are located within 10 miles of the city.
38 Colleges and Universities are located within 50 miles of Gloucester.
---
Engineering Schools
within One Hour of Gloucester
Boston University: (Boston, MA) Aeronautical/Aerospace, Biomedical, Computer, Electrical, Industrial, Mechanical.
Harvard University: (Cambridge, MA) Biomedical, Computer, Electrical, Environmental, Materials, Mechanical.
Massachusetts Institute of Technology: (Cambridge, MA) Aeronautical/Aerospace, Biomedical, Chemical, Civil, Computer, Electrical, Environmental, Industrial, Materials, Mechanical, Nuclear.
Northeastern University: (Boston, MA) Biomedical, Chemical, Civil, Computer, Electrical, Environmental, Industrial, Materials, Mechanical.
Franklin W. Olin College of Engineering: (Needham, MA) Biomedical, Computer, Electrical, Materials, Mechanical.
Tufts University: (Medford, MA) Biomedical, Chemical, Civil, Computer, Electrical, Environmental, Mechanical.
University of Massachusetts Boston: (Boston, MA) Computer, Electrical, Physics.
University of Massachusetts Lowell: (Lowell, MA) Biomedical, Chemical, Civil, Computer, Electrical, Mechanical, Plastics/Polymer.
Wentworth Institute of Technology: (Boston, MA) Architectural, Civil, Computer, Mechanical, Electronics, Electromechanical.
---
Historically Notable Residents
Willie Alexander, American singer and keyboard player.
A. Piatt Andrew, congressman, Assistant Treasury Secretary, and Harvard professor. The Route 128 bridge connecting the island and mainland portions of Gloucester was named after him.
Roger Babson, founder of Babson College and presidential candidate for the Prohibition Party in 1940.
Howard Blackburn, fisherman and adventurer.
Clarence Birdseye, founder of the modern frozen food industry.
Virginia Lee Burton (1909–1968), children's book author and illustrator (The Little House and Mike Mulligan and His Steam Shovel), founder of the Folly Cove Designers group.
Roger Cressey, former member of the United States National Security Council, terrorism analyst for NBC News, president of Good Harbor Consulting, and adjunct professor at Georgetown University.
Aristides Demetrios, American sculptor, grew up in Gloucester as son of Virginia Lee Burton.
James Elliot, author and United States Representative from Vermont.
Henry Ferrini, critically acclaimed independent filmmaker, nephew of Vincent Ferrini.
Vincent Ferrini, poet, first Poet Laureate of Gloucester.
Thomas Gardner, landed in 1624 at Cape Ann to form a colony at what is now known as Gloucester.
John Hays Hammond, Jr., inventor known as "The Father of Radio Control", built Hammond Castle as his home and laboratory.
Halfdan M. Hanson, architect, most noted for his collaboration with Henry Davis Sleeper on the Beauport, Sleeper-McCann House.
Walker Hancock, sculptor.
Sterling Hayden, actor and writer.
Helen Hayes, actor, spent her summers in Annisquam.
Israel Horovitz, playwright.
Alfred "Centennial" Johnson, first recorded single-handed crossing of the Atlantic Ocean.
Fitz Henry Lane, Luminist painter, born and lived in Gloucester.
John Murray, founder of the Universalist denomination in the United States.
Judith Sargent Murray, feminist, essayist, playwright, and poet.
Charles Olson, Black Mountain College poet.
Herb Pomeroy, influential jazz musician, born in Gloucester.
Marc Randazza, First Amendment lawyer, legal commentator, and legal author, born in Gloucester.
Paul Dudley Sargent, Revolutionary war hero, one of the founding overseers of Bowdoin College.
Winthrop Sargent, United States patriot, Governor, politician, and writer; and a member of the Federalist party.
Benjamin A. Smith II, former U.S. senator from Massachusetts (1960–1962), Mayor of Gloucester (1954–1955).
William Stacy (1734–1802), American Revolutionary War officer, and pioneer to the Ohio Country.
Vermin Supreme, performance artist, anarchist and activist.
Martin Welch, schooner captain, winner of first International Fishing Schooner Championship Races.
---
Films:
Author! Author! had scenes shot on Good Harbor Beach in Gloucester.
In The Bostonians, oceanfront scenes were filmed on rocks at Rafes Chasm Park, off Hesperus Avenue.
Captains Courageous (1937) was set in Gloucester.
The Good Son was filmed in Gloucester and other Cape Ann communities.
Mermaids had scenes shot in the Magnolia area of Gloucester.
Moonlight Mile was filmed almost entirely in Gloucester, with some shots in Marblehead.
The Perfect Storm (2000) was filmed and set in Gloucester.
Polis is This: Charles Olson and the Persistence of Place is a one-hour documentary about the poet Charles Olson which the Boston Phoenix called "the best film about an American poet ever made."
The Women was partly filmed in Annisquam.
The Russians Are Coming, the Russians Are Coming film takes place on a fictional Gloucester island but was filmed in Mendocino, California.