Thanks for your interest in learning more about Gloucester!
Entrepreneurs, innovators and visionaries have been discovering our unique combination of people, place and purpose for almost 400 years. We encourage you to consider today's Gloucester in your plans, whether you're expanding or relocating your business or launching a new venture.. Let us show you how a partnership with our community can benefit you as it has so many others.
A Place to Live, a Place to Grow
Gloucester is home to a growing number of entrepreneurial firms, and countless other business leaders live here and are an active part of a dynamic and vibrant community. You will find support from this community – entrepreneurs, innovators, investors, mentors, academics, artists, educators and others — and from groups dedicated to helping businesses grow and succeed. Come and get to know Gloucester!
Location, Location, Location
Gloucester is reknown for the striking natural beauty of its coastline, including sweeping beaches, picturesque coves and a port that has draws generations of marine and fishery businesses.
Gloucester is dedicated to its working waterfront, supporting the legacy community and collaborating with business and educational leaders to create new marine-related opportunities. Here you'll find working fishermen, global players like Gorton's, and new enterprises such as Ocean Alliance and Gloucester Marine Genomics Institute
This unique blend of beauty and commerce is part of the Greater Boston region, with easy access via major highways and commuter-rail service that deliver commuters and visitors to our city each day. Massachusetts' famed Route 128 Technology Highway begins in Gloucester, beneath our three state-of-the-art wind turbines, and we have two rail stations that connect to Boston and other eastern Massachusetts cities. This proximity extends Gloucester's reach to the renowned education, research, healthcare and business centers of Boston and Cambridge, and the unmatched talent pool the region makes available. And we're a short drive to two major airports – Boston's Logan International Airport and Portsmouth International Airport at Pease.
A World-Class Educational Community
Our city is part of what many believe is the greatest concentration of colleges and universities in the world – a community that extends from Greater Boston and Cambridge, across eastern Massachusetts and into the North Shore region where Gloucester is located. Here you'll find educators, administrators and graduates from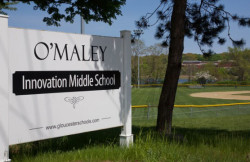 the area's educational institutions – some who have come to live here, some to work and others to establish businesses. You'll discover unique educational initiatives the O'Maley Innovation Middle School, where young people are introduced to fields like robotics, programming, and 3-D printing.
A Choice of Business Districts
Gloucester offers a variety of options for growing businesses, including
Two industrial parks with easy access to Route 128
A historic yet vibrant Downtown retail and Harbortown cultural district
Magnolia's Innovation district
Rocky Neck's arts and entertainment cultural district
And our famed Gloucester Working Waterfront
Catch the Next Wave
We invite you to learn more about our community. Explore this website for details on all that our city has to offer. Come and visit. But most of all, let us help you answer the question, "Why Gloucester?" We are confident you'll find Gloucester is ready to help you and your business "Catch the Next Wave!"